Blue Coat SG9000 MACH5 Series Appliances

Power, flexibility, and speed in one appliance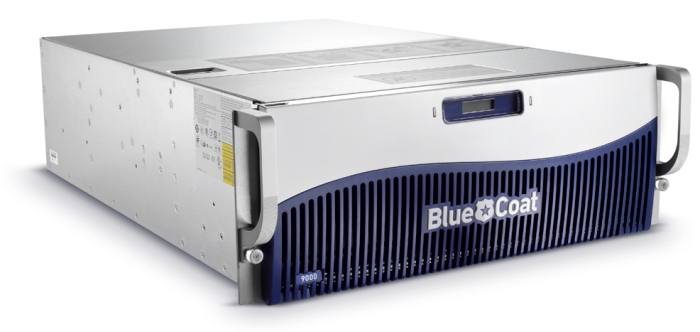 Blue Coat Products
Blue Coat SG 9000 Series Appliances - MACH5 Edition

SG 9000-20B, MACH5 Edition
- Hardware with SGOS and US Power Cord Included
*BlueTouch Support is required with hardware purchase.

SG 9000-30, MACH5 Edition
- Hardware with SGOS and US Power Cord Included
*BlueTouch Support is required with hardware purchase.

SG 9000-40, MACH5 Edition
- Hardware with SGOS and US Power Cord Included
*BlueTouch Support is required with hardware purchase.
More pricing below, click here!
WAN Optimization for a superior user experience!
As the foundation of Blue Coat's Application Delivery Network (ADN), Blue Coat ProxySG appliances accelerate and secure business applications for users across the distributed enterprise. The Blue Coat ProxySG Acceleration Edition is a powerful yet flexible WAN Optimization solution for improving application performance. Deployed at both remote branches and in the network core, ProxySG appliances form a transparent, secure and fast application delivery infrastructure to improve user productivity, reduce bandwidth expense and enable key IT initiatives.
ProxySG appliances licensed for Acceleration Edition deliver a full WAN Optimization feature set. With this, you can:
Enhance productivity across the distributed enterprise by accelerating internal, external and real-time application performance for branch and mobile users
Significantly reduce bandwidth with industry-leading compression, byte caching and object caching technologies
Blue Coat MACH5 goes a step beyond other WAN optimization solutions, which focus exclusively on data applications. With Blue Coat MACH5, you can leverage specialized optimization features for data, video, cloud and web applications — even in IPv4, IPv6 or mixed environments.
MACH5 appliances combine protocol acceleration, compression, object and byte caching and QoS to help accelerate key applications such as file access, email, web, storage replication and backup. For advanced applications, MACH5 integrates specialized live and on-demand video optimization for Adobe Flash, Windows Media, Silverlight, HTML5 and all video. MACH5 cloud-caching engines enable faster SaaS application access with no impact to the cloud infrastructure.
Save Bandwidth
Boost speed while cutting costs.
Blue Coat MACH5 combines acceleration technologies such as protocol optimization, object and byte caching, compression and traffic shaping to accelerate application delivery to remote locations.
Get up to 300x faster access to files, email, backup, disaster recovery, and data apps in consolidated IT environments. Cut bandwidth consumption by 50-90%.
Blazing Fast Video
Caching and rapid delivery of web videos.
We add advanced optimization for web, video and cloud applications that deliver the next generation of WAN optimization.
Multiply bandwidth up to 1000x with more scalable video delivery.
Speed Up the WAN and the LAN
Optimization for everyone everywhere.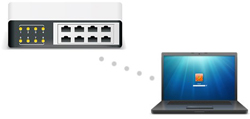 Deliver faster access to both internal web applications as well as Internet and cloud-delivered SaaS applications. By combining these technologies into a single solution, MACH5 provides all the tools you need to optimize your entire WAN and accelerate more application types with more technologies than any other optimization solution. Optimize access for branch offices and mobile users as well.
Features:
Acceleration

Protocol Optimization: Accelerate application performance by mitigating the penalties that latency imposes on inefficient protocols or applications originally architected for the LAN and running on the WAN
Object Caching: Dramatically accelerate web application and workflows that depend on centrallystored files by delivering remote content locally in the branch
Byte Caching: Reduce the effects of latency, and significantly reduce bandwidth consumption for repetitive data elements, even across disparate applications, transmitted over the WAN
Compression: Reduce the effect of latency, and reduce bandwidth consumption for any compressible data transiting the WAN
Bandwidth Management: Ensure productivity by prioritizing enterprisecritical data flows over bulk-data or recreational traffic
Video Optimization: Stream splitting, video pre-population and video caching can save up to 99.99% of bandwidth
Mobile User Optimization: Productivity enhancement for mobile and home users with Blue Coat ProxyClient

Application Acceleration

Support for multiple protocols

HTTP, CIFS, SSL, FTP, Encrypted MAPI, MAPI, P2P, MMS, RTMP, RTSP, QuickTime, SCPS, TCP-Tunnel, DNS
Provide LAN-like application performance to remote users and branch offices
Deliver outstanding performance for streaming audio, video and other rich media applications
Bandwidth management on all acceleration services
Accelerate live and on-demand rich media, as well as SSL-encrypted traffic
Control encrypted traffic for all users and applications inside and outside the enterprise
Reduce recurring network bandwidth costs with multiple levels of compression and content caching

Performance & Reliability – SGOS

Platform highlights:

Secure object-based operating system with small footprint
High-speed caching with advanced object pipelining and adaptive refresh
Built-in pass-through network card, compression services, bandwidth management and SSL off loading

Network functionality including:

Active/Active bridging support using virtual IP addressing for failover and remote installations
Completely transparent when tunneling applications between appliances, maintaining IP and port information for traffic management
Native support for advanced clustering for near limitless scalability, without additional load balancing appliances
Routing configurations for gateway, route tables, RIP, DNS, and WCCP, with support for asymmetric routing of application delivery tunnels
Health checks performed on a forwarding host or external servers to verify status and availability of device
View & submit service requests via the Blue Coat management interface
Send snapshots (trace files) to Blue Coat Support Services for faster resolution

Manageability – Policy Processing Engine

Powerful management interface

Web-based management interface
Optional command line interface
Alerting via SNMP, SMTP and logging administrative events

Content Policy Language (CPL)

Create custom text-based policies to address unique policy requirements
Definable triggers and actions for policy definition

Extended Management with Director

Distribute, backup, restore policy files for multiple ProxySG appliances
Manage policies by device, group, or region
Job scheduling/job status reporting

Management & Control of ProxyClient

Configure, provision and maintain global deployment of ProxyClient
Upgrade client versions seamlessly with auto version detection and update

Visibility – Management Reporting

Default logging

HTTP, HTTPS, CIFS, Encrypted MAPI, MAPI, FTP, TCP-Tunnel, P2P, ICP, Windows Media, Real Media, QuickTime, DNS
Global log file limits and upload sizing
Client upload settings and scheduling

Custom logging and trace files

Selectable fields/text/log formats

Statistics

Bandwidth Gain
HTTP/HTTPS/FTP history
Streaming history
Resources

SNMP Support

Trap settings, community strings

Aggregate logs with Reporter

Reporter dashboard - intuitive console that provides a "drill-down" overview of Web activity
50+ pre-defined reports track user activity, security risks, and Web traffic performance
Secure browser access/rolebased viewing
Provides real-time reporting with continuous log uploads from one or more ProxySGs
Technical Specifications:
| License Type | Acceleration Edition | Proxy Edition |
| --- | --- | --- |
| CIFS acceleration | | |
| Windows Media optimization | | |
| Real Media optimization | | |
| QuickTime optimization | | |
| Adobe Flash optimization | Option | Option |
| Bandwidth Management | | |
| DNS proxy | | |
| HTTP acceleration | | |
| SSL acceleration | | |
| Encrypted MAPI /MAPI acceleration | | |
| Telnet proxy | | |
| ICAP Services | | |
| Netegrity SiteMinder | | |
| Oblix COREid | | |
| Peer-To-Peer | | |
| User Authentication | | |
| Onbox Content Filtering (3rd Party or BCWF) | | |
| Offbox Content Filtering (e.g. Websense) | | |
| Instant Messaging (AOL, Yahoo, and MSN) | | Free |
| SSL Termination/Proxy | | |
Models:
SG9000-10
SG9000-20
SG9000-30
SG9000-40
Recommended Capacity
Connections
12,000
24,000
60,000
100,000
System
Disk drives
8x500GB SAS
10x500GB SAS
10x1TB SAS
15x1TB SAS
RAM
8GB RAM
16GB RAM
40GB RAM
64GB RAM
Network Interfaces
4 x 1000 Base-T: 1xMgmt, 1xAux, 1 bridged pair (WAN & LAN) with bypass; SSL Card
Open Slots 3xPCI-E
Open Slots 2xPCI-E
Optional NICs
4x1000Base-T (Copper), 4x1000Base-F (Fiber)
2x10G (Copper), 2x10G (Fiber)
Physical Properties
Enclosure
19" Rack-mountable
Dimensions (L x W x H)
66.7cm x 42.7cm x 17.2cm (26.3in x 16.8in x 6.77in)**
72.7cm x 48.0cm x 17.2cm (28.6cm x 18.9in x 6.77in)***
Weight (maximum)
Approx. 40kg (90 lbs.)
Operating Environment
Power
AC power 100-240V, 50-60Hz, 9.0-4.5A, Redundant power, DC power available
Maximum Power
750 Watts
Thermal Rating
3300 BTU/Hr
Temperature
5°C to 40°C (41°F to 104°F) at sea level
Humidity
Operating: 20% to 80% relative humidity, noncondensing,
Storage: 10% to 90% relative humidity, non-condensing
Altitude
Operating: Up to 3048 M (10,000 ft)
Storage: Up to 12192 M (40,000 ft)
Regulation
Emissions
FCC Class A, EN55022 Class A, VCCI Class A, BSMI, CCC, C-tick, KCC
Safety
UL 60950 -1, EN60950 -1, IEC 60950-1, CE Mark, TUV-GS, TUV-S, CCC, BSMI, GOST-R
Standards
UL/CSA, TUV-S, BSMI, CCC, CE, GOST-R, Dictamine, C-tick, MIC
Certifications
NIAP EAL 4+ (in process), FIPS 140-2 (in process)
Product Warranty
Limited, non-transferable hardware warranty for a period of one (1) year from date of shipment. BlueTouch Support contracts available for 24/7 software support and options for hardware support.
* limited to 10 concurrent users
** measurement of chassis only
*** measurement includes extensions (handles and ears)
**** weight w/o power cord
Pricing Notes:
Pricing and product availability subject to change without notice.