Blue Coat and SAP

To increase business agility, SAP and other business applications are increasingly being delivered through the Web. However, these browser-based applications are usually rich in graphics and images, which can degrade performance over bandwidth-constrained WAN links. For users in branch offices, even simple SAP tasks and operations can be remarkably slow. For example, while login times over a LAN may take only two seconds, the same login from a branch office across the WAN can take 25 seconds or more.
The Blue Coat Application Delivery Network (ADN) can help you accelerate the performance of all your Web-based SAP applications. By combining Application Performance Monitoring, WAN Optimization and Secure Web Gateway technologies in a single, comprehensive infrastructure, the Application Delivery Network helps you discover, classify and prioritize all the traffic on your network. With detailed, intelligent control over your network, you can cost-effectively see, accelerate and secure the applications that drive your business.
More specifically, Blue Coat ProxySG's protocol enhancements and caching optimizations improve and accelerate the delivery of SAP Netweaver over the WAN, reducing the effects of latency and problems associated with limited bandwidth.
Performance Results
In a test of SAP login over an ADSL 768 Kbps link with 30ms latency, ProxySG appliances improved login times by 12 times or more, while also reducing bandwidth usage by up to 99%.
In a test of SAP file retrieval over a T3 45 Mbps link with 150ms latency and 0.1% packet loss, ProxySG appliances improved file retrieval times by 97 times or more, reducing bandwidth usage by more than 99%.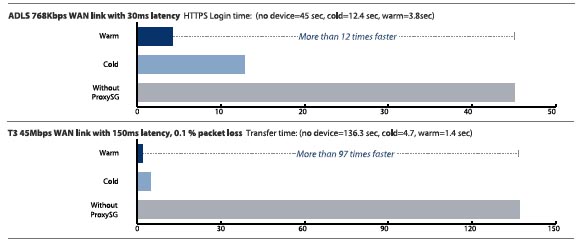 To learn how Blue Coat can help you optimize all of your SAP applications, download the following: Application Performance Brief: SAP Applications